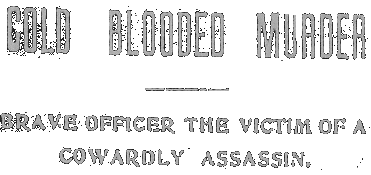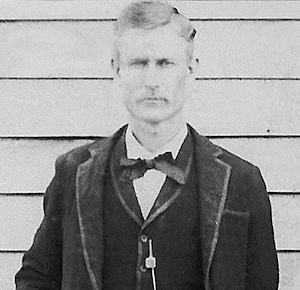 Cherryvale City Marshal William G. Jones was shot on the afternoon of December 27, 1903, while attempting to serve a state arrest warrant to a local resident.  Jones and his deputy knocked on the door of the local citizen and, not being welcomed, forced their way into the dwelling. As Marshal Jones climbed the stairs in search of suspect, the man fired on him from above. Jones' deputy sought medical attention for the marshal as soon as possible, but Jones died of his wounds early the next morning.  The day of the funeral the entire town of Cherryvale shut down, and attended the funeral of Marshal Jones.  The above headline is from the Cherryvale Republican dated January 1, 1904.
Marshal Jones, a Kentuckian who served as a Deputy Sheriff in Laurel County Kentucky before coming to Kansas.  Lived in Kansas for 2 years, and was 38 years of age at the time of his death. He was survived by his wife and three children.
Marshal Jones is buried at the Fairview Cemetery in Cherryvale, Kansas.  Deed No. 237, Block No. C, Lot No. 54, Space 1.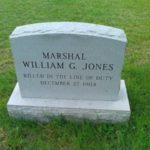 In 2006 the department was notified by present day descendents of Marshal Jones.  They explained the events that had lead to his death, and that Marshal Jones was buried in an unmarked grave.   In October 2007 the 
police department began taking donations to place a headstone at the grave site and a plaque at the Cherryvale Police Department.

We would like to thank everyone who donated, including a special thank you to Doug Kuehn with Penwell-Gabel out of Independence, Kansas.  After hearing the story of Marshal Jones, Mr. Kuehn worked to get a headstone donated for Marshal Jones.
The department would like to thank everyone who donated so that this honoring was made possible.

Marshal William G. Jones name was placed on the National Law Enforcement Memorial
Wall in Washington DC on May 13th, 2008. It is located at Panel 26, W-26