TIMELINE
Before 1850 Osage Indian territory
1850  Area was opened to Euro-American settlement
1867  Montgomery County is created by legislatures, by cutting Wilson County in half.  It will be organized by a proclamation of June 3rd, 1869.  The county is named after General Richard Montgomery.
1869  P.C. Brown sets aside 10 acres of his farm to be used as a cemetery, and the first marked grave is placed in the Fairview Cemetery.
1870  Much of the land around Cherryvale is homesteaded.
1871  Town site laid out.
1872  First school was built near Fourth and Carson Streets. Miss Mary Greenfield taught the first class in the summer of 1873.
1873  The first major fire to damage the town happens.
First flour mill is established.
The Herald Newspaper publishes its first news paper here in Cherryvale.
What would later be known as Cherryvale has forty businesses at this time.
1874  Population is 200
1875  Severe grasshopper plague hits the area
1877  Cherryvale Globe Newspaper established.
1879  Population of Cherryvale is 250
Cherryvale Globe Newspaper burns to the ground.  The paper was printed in Kansas City until 1880

1880  Population of Cherryvale is now 690.
Cherryvale is incorporated.
The first form of law enforcement is established when Marshal J.C. Cunningham is appointed on April 5th.
The Cherryvale Opera House Company was organized.
The city had five saloons in town at this time.
Exchange Bank (Now Peoples State Bank) opens.
1881 Prohibition takes effect in Kansas.  Cherryvale voted in the fall of 1880 in favor of a state law to outlaw the sale and manufacture of spiritual liquors.  Soon after this law is put into effect, bootlegging becomes popular in and around the area of Cherryvale.
Logan Park is created after the Lawrence, Leavenworth & Galveston Railroad deed six acres of land to the city.  The park is named after General John A. Logan.
1882  Population of Cherryvale is 1800.
Since Cherryvale had six brick factories, most of the streets, sidewalks and downtown buildings were constructed from these bricks.  1882 saw the advent of sun-dried brick streets.
The first issue of the Cherryvale Torch was published.
1884  The Liberty Fire Company was established, bring the first fire department to Cherryvale.  It was a private fire company.  The Cherryvale Bulletin newspaper is established.
1886  The Cherryvale Republican newspaper is established.
1887  First natural gas well was drilled at Fourth and Labette Streets. By the turn-of-the-century, more than 30 gas wells were producing inside the city limits.
1888  The cigar factory, Cahters & Stahl who pioneered political campaigns on cigars, was built at 103 1/2 East Main Street. The firm would produce 17,000 cigars each month and now is one of the best known cigar firms in the Midwest.
1889  Population of Cherryvale is 2400                
1892  Frank Bellamy writes the "Pledge of Allegiance" as part of a local contest to express allegiance to the US Flag.  Only 16 years of age at the time he submits the pledge to the "The Youth Companion" who publishes it on Sept 8th, 1892 only giving credit to Anonymous. When asked why they did not give credit to him, they state that all items submitted to them remain their property.
1895  First Old Solders' Southern Kansas Reunion was held in Cherryvale. 
1896  Robert H. Cloughley, a railroader, built the first steam driven automobile west of the Mississippi. The engine was similar to a railroad steam engine. The streamer auto company after about one year due to lack of financial backing.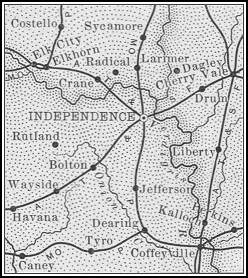 1898  Frank Bellamy as a student in Cherryvale Central High School, brought the Pledge of Allegiance into national focus as a winner in a 1892 national student contest.  The pledge was first officially used in a celebration coinciding with the opening of the World's Columbian Exposition in Chicago.  A veteran of the Spanish-American War, he is buried in Cherryvale's Fairview Cemetary.
Edgar Zinc Company opened at a cost of $350,000.
Cherryvale Evening Clarion newspaper is founded.
Wood planked sidewalks were replaced by kiln bricks from the Corbin plant, they would later be widened to 16 feet.
1899  Water came to the downtown area from Lake Tanko.
Local and long distance telephone system was installed.
1901  Cherryvale was booming with a glass factory, shovel and barrel factories, a marble works, an iron works, two grain elevators serviced by the railroads, and a bicycle factory.
1903  City Marshal William G. Jones is killed in the line of duty.

1904  Population of Cherryvale is 4706
The first sewers were put into service.
1905  Around this time the city takes fire protection.  The department is one of the oldest full time manned stations in the state of Kansas.
The school colors were orange and black.
1906  Population of Cherryvale grows to nearly 7000.
Louise Brooks is born, and lives at 531 East 7th Street.
1907  Population of Cherryvale is drops to 6018.
The city jail is listed in the city directory as being on the East side of South Labette between Main and Fourth.
1909  Vivian Vance is born, and lives at 309 West 6th Street.
1910  First trolley car rolls into town.
1912  Leatherock Hotel built, 420 North Depot Street. The only local hotel left among the 19 hotels built in Cherryvale's bygone era.
1913  Cherryvale Carnegie Library, 329 East Main Street.  Early 1909, the Cherryvale Women's Club set a goal to establish a library with an adjoining room for rural women to rest and visit after their long horse and buggy ride to shop in town. In 1912, a grant from the Carnegie Foundation provided the necessary funds for construction of a permanent building.
1924  Grace and Earl Newton start a plumbing and electric business at 116 W. Main that will later be known by all as Newtons Hardware
1930  Serious drought "the dust bowl" hits the area hurting the cattle industry.
1932  Edgar Zinc Company shuts down.  The factory was the largest zinc plant in the World, at the time.
1933  Pretty Boy Floyd who grew up in Cookson Hills of Oklahoma. Is known to pass through Cherryvale.
1934  The first basketball played by the "Cherryvale Fighting Cherries." happened this year on Dec 1st.
1937  Population of Cherryvale drops to 3800
1939  The city building was located at 119 N. Neosho.
1940  The last Brick yard closes.
1946  Big ice storm hits the area dropping 10in of ice in and around Cherryvale.  It takes over three weeks to restore power.
1949  Another big ice storm hits the area.
1951  Cherryvale hit by a tornado on June 25th around 2:00AM leaving a trail of minor damage and debris.
1954  The Santa Fe Railroad deeds the City of Cherryvale as a New Years gift the entire Lake Tanko property.  Soon after this the lake  opened for fishing, and the area was cleaned up and turned into a park.
The Cherryvale National Guard Field Artillery unit (297th) was activated.
1961  Tri City Airport opens north of Cherryvale.
1962  Big Hill Lake authorized by Congress, Cherryvale Police Department receives its first police dog on Jan 23rd.
1967  Population of Cherryvale is 3100
1969  High School athletic team changes its name from "The Fighting Cherries" to "The Chargers"
1987  The handsome, pressed brick building from local Cherryvale brick factories, with Carthage cut stone pillars, a concrete foundation, and oak floors with beamed ceilings was registered on the National Register of Historic Places.
1990  Population of Cherryvale is 2,511
2000  Population of Cherryvale is 2,386
2005  Population of Cherryvale is 2,266
2006  Population of Cherryvale grows to 2,271
Quick Facts
Cherryvale once had eight grocery stores and six barber shops.
Cherryvale has one of the oldest full-time fire departments in the state.
Teddy Roosevelt, and Warren Harding have both spoke at Logan Park
Cary Nation who became famous in Wichita for chopping up a bar with her hatchet was know to have stayed in Cherryvale at the Commercial Hotel.
Charles Lindbergh used the Cherryvale and the railroad tracks as a reference point when he got off course during a flight from San Diego to St Louis
Kate Bender who was part of the family known as the Bloody Benders worked at the opera house in Cherryvale. The family lived north of Cherryvale near what is now known as 400 highway and Browns Road - More Info
Notable Natives
Sam Avey  - Legendary Wrestling Promoter
Louise Brooks - Dancer, silent film star, and author
Frank Bellamy - Mr. Bellamy wrote the "Pledge of Allegiance" in 1892 when he was 16 years old as part of a contest to express allegiance to the US Flag.  When published by "The Youth Companion" on Sept 8th, 1892 the publishers only gave credit to Anonymous.
Billy Sandow - Manager for World Champion Ed "Strangler" Lewis
Vivian Vance - She who played Ethel Mertz on I Love Lucy.
Leason Heberling Adams - Geophysicist. In 1920, he and E. D. Williamson published their invention of a new method of annealing optical glass. Adams gained further renown for his research into the elastic properties of minerals and rocks at high pressure, especially as related to the composition of the Earth. He was professor of geophysics at the University of California, Los Angeles (1958–65) until his retirement.
Demographics
As of the census[1] of 2000, there were 2,386 people, 982 households, and 639 families residing in the city. The population density was 1,537.2 people per square mile (594.3/km²). There were 1,142 housing units at an average density of 735.7/sq mi (284.5/km²). The racial makeup of the city was 94.09% White, 0.08% African American, 1.97% Native American, 0.13% Asian, 1.30% from other races, and 2.43% from two or more races. Hispanic or Latino of any race were 2.77% of the population.
There were 982 households out of which 31.3% had children under the age of 18 living with them, 49.7% were married couples living together, 11.1% had a female householder with no husband present, and 34.9% were non-families. 31.2% of all households were made up of individuals and 15.8% had someone living alone who was 65 years of age or older. The average household size was 2.39 and the average family size was 2.98.
In the city the population was spread out with 26.8% under the age of 18, 8.2% from 18 to 24, 26.9% from 25 to 44, 21.2% from 45 to 64, and 16.9% who were 65 years of age or older. The median age was 37 years. For every 100 females there were 91.2 males. For every 100 females age 18 and over, there were 87.2 males.
The median income for a household in the city was $27,917, and the median income for a family was $33,599. Males had a median income of $25,964 versus $19,356 for females. The per capita income for the city was $13,655. About 13.0% of families and 18.9% of the population were below the poverty line, including 26.4% of those under age 18 and 15.7% of those age 65 or over. - Credit to wiki
Credit for reference information to:
Crystal Harper - Cherryvale 125th Anniversary
John J. Littell - Cherryvale the Early Years
Bob Hitchcock - Cherryvale
Last updated October 31, 2013
Did we miss something that you feel needs to be added? Send it to frontdesk@cherryvaleusa.com